Wendy Auzqui didn't think that Quirt would be the dog to win it.
Auzqui brought two border collies to the World Stock Dog Championships in Calgary, Canada: Frank, who won the championship in 2019, and 5-year-old Quirt.
"I had four dogs to choose from," she said. "Frank had to go because he won before, and then John, my husband, always tells me, 'That Quirt's your best dog.' I'm like, 'OK, we'll take her.'"
Both dogs made it to the finals, though Quirt, admittedly, made it by "the skin of her teeth," Auzqui said.
"I was, like, you know what, I'll just kind of make a nice practice run with Quirt, make it smooth, not get excited, and then when I bring Frank out, that's the one," she said.
Instead, maybe in the spirit of sibling rivalry, Quirt had a beautiful run, handled her sheep well and quickly, finishing in 2 minutes, 6 seconds, roughly 9 seconds ahead of the second-place competitor in the finals.
With that, Frank finished in fifth and Quirt finished in first, earning her owner $10,000 and the title of World Stock Dog Champion. And on returning to town, the Clearmont resident and her dogs received fanfare fit for a world champion.
"When I came home from Calgary, my husband said, 'Call me when you're leaving Sheridan,'" Auzqui said. "When I got to Ucross, there were four fire trucks and I don't know how many people lined up. They gave me a fire truck escort into town. I have the best support group ever."
Quirt's trip to Canada was a homecoming of sorts, Auzqui said. She was born there and brought to Clearmont for training by her owner at the time, Buzz Sharon, of Texas.
"I hadn't had her very long when I called Buzz and said, 'She's not leaving here. I don't know what we're going to do, but she's not leaving here," she said. "He's such a generous person that he said, 'Let's just partner on her.' So half of her belongs to him."
What makes Quirt special to Auzqui, she said, is that the duo are so much alike. Quirt wants to do things fast, she wants to be right, she doesn't want to be in trouble, and she handles her sheep perfectly.
"I don't know if you can have an alter ego as a dog, but Quirt is like me," Auzqui said.
Those similarities and their bond translate into the arena when it's time to work. On Auzqui's command, the long-haired pup slinks, sprints and walks round, eyes locked on her sheep. Dust flies behind her and the sheep she's herding.
Since 2014, Auzqui has made working with dogs her full-time job, though she emphasizes that what she does is far from work. Her "obsession" with dogs started with the first dog she trained, and she was all in. Now, she does clinics, lessons and training, in addition to breeding and selling with her business, Creekside Stockdogs.
On the ranch growing up, Auzqui's family always had dogs, but they were working dogs, not family pets, her dad told her. But when he wasn't around, Auzqui was "all over them," even tying them to a sled in the winter and letting them pull her around.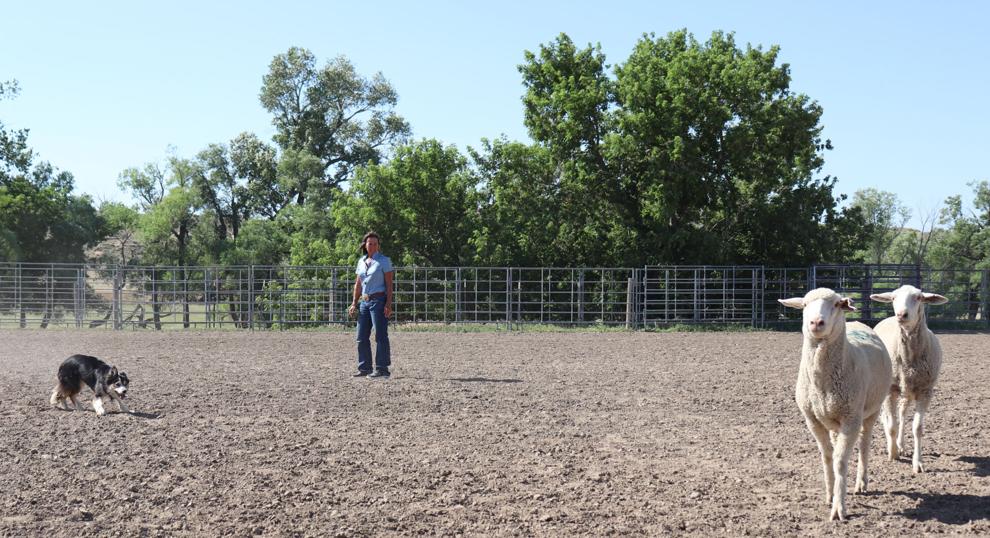 When she and her husband had their own ranch, she couldn't resist. Her dogs are not only work partners but also family.
Originally a rodeo athlete, Auzqui said that she got into stock dog trials as a new challenge. Her performance at the Calgary Stampede in both 2019 and 2022 is a far cry from where she was in just 2018, she said.
"I was pretty much a nervous wreck," Auzqui said. "I hadn't run for that kind of prize money before and there was some really stiff competition, so I was a little unnerved, and that always goes right to your dogs. So they didn't perform that well either."
That experience plays into Auzqui's No. 1 training tip for new dog owners: be patient, have fun, and communicate and foster a good relationship with your dog.
"Those dogs will do anything for you, if you have a good relationship," she said.
.