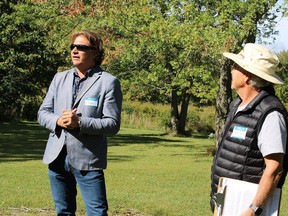 Article content
JACK EVANS
FOR POSTMEDIA
Article content
PICTON – Volunteers who faithfully labor to restore and maintain the 100 –plus houses in Birdhouse City here, agree they fell way behind during the covid years. Not only the many of the houses and their mounting posts need attention, but hope remains to construct at additional number of new houses.
These matters were discussed as a cluster of the volunteers met in a picnic shelter just below the birdhouse hill in Macaulay Mountain, one of Quinte Conservation's premier properties Saturday morning.
Birdhouse City volunteers chairman, Brian Lachty, noted the site had received a dose of national publicity in recent months when it was used as the starting point for an episode in the popular CBC series "Great Race Canada. Even without that though the site has continued to attract a lot of attention by the many tourist visitors to the county and continues to do so. Thus, with about a dozen birdhouse builder-repairers on hand, Lachty reviewed his hopes for the coming year and an appeal for more woodwork-loving volunteers to help.
Article content
Established about 40 years ago, the pole-mounted complex offers a mini picture of the county's architecture after a talented wood craftsman, now deceased, created a scale model structure of the former Massassaga Hotel, across the Bay of Quinte from Point Anne, a popular tourist destination for some years until it was burned down. (The site remains a conservaton authority property.) Then the program caught the gist, with other recognizable homes and facilities throughout the county, plus help from other volunteers.
But wood is time sensitive and new volunteers were needed to build more homes and restore those that were deteriorating. Ditto for the wooden posts that supported them.
"We've had an exciting year here," he said, "with almost 30 new or repaired bird houses added, and thanks to Quinte Conservation, we've renewed our Birdhouse City sign so visitors can find us more easily."
Article content
He also thanked local business supporters, such as Chris Van Cott at Schoonhoven Landscape Maintenance for time and equipment to mount posts and Adam Buscher at Picton Home Hardware for building materials and supplies.
He went on to outline the work planned for volunteers during the coming winter months, and introduced Brad McNevin, CAO of Quinte Conservation.
McNevin praised the volunteers efforts and thanked them. He noted that a good number of birds have been using the houses, helped by the abundance of natural foods in the sprawling conservation area. Many other birds use the forested area for natural habitat as well as other wildlife. 'Thank you all,' he concluded