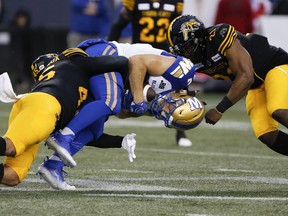 Article content
It was billed as a Gray Cup rematch, a grudge match for Hamilton and a chance for the Winnipeg Blue Bombers to get closer to their championship form.
Article content
In a start delayed 30 minutes by thunderstorms, the Bombers thundered their way over the Tiger-Cats, 26-12.
It was the most impressive performance of the young season for the two-time defending Gray Cup champs, particularly the defence, which stifled the Tiger-Cats at every turn.
For the second time in three games, Winnipeg didn't give up a touchdown. And this time they didn't cough up a bunch of yardage, either.
Forcing interceptions by Willie Jefferson and Nick Taylor, both in the fourth quarter – Jefferson taking his in for a touchdown – the Bombers held Hamilton to less than 300 yards of offence, while recording well over that themselves.
"We're building," head coach Mike O'Shea said. "I liked our second half, that's for sure. Defensively, generating those takeaways and generating the score is really important… and then they did a good job of holding down Hamilton's offence."
Article content
While the defense was stellar, quarterback Zach Collaros cracked the 300-yard passing mark (302) for the first time this season, running back Brady Oliveira added a short touchdown run and kicker Marc Liegghio did the rest, going three-for-three on field goals and adding two singles.
The Bombers improve to 3-0, while Hamilton fell to 0-3, a boisterous crowd announced at 23,600 watching their team improve to a sparkling 21-1 at home, going back to 2019.
"The atmosphere our fans bring to the stadium," was the explanation from Collaros. "If you want to call it momentum, the atmosphere, all the different things that a great crowd brings, that plays a part. You should win at home. Everywhere I've ever been, college, high school, professionally, you've got to defend your home turf. And we've done a good job of that.
Article content
"A little bit of adversity to start the game. We didn't know the situation with the weather, and the short warmup… but the guys were focused and got out of here with a win, and that's what this game is about."
The Bombers talked all week about wanting to get off to a better start, and their first offensive play couldn't have gone much better.
Faking a handoff to Oliveira, Collaros dropped back and went deep over the middle to a wide-open Greg Ellingson for a 46-yard chunk of real estate, down to the Hamilton 39.
"It was a great call from Buck (Pierce), trusting us to execute the great play," Collaros said. "It was something we'd seen on film. We do run the ball well, and the Ticats adding to the box, and do a great job of filling the gaps. So we thought we could take advantage of them on that play, and Greg made a heck of a catch."
Article content
They had to settle for a Marc Liegghio field goal from 45 yards out.
That in itself was no small feat, though, as Liegghio hadn't tried anything longer than 30 yards through the first two games. And he'd missed two converts, which are from 32 yards away.
So chalk up some much-needed confidence in Winnipeg's second-year kicker.
Next Bombers series, Rasheed Bailey got away from the lax Tiger-Cats coverage for a 35-yard pickup, and it seemed the Winnipeg aerial attack was going to have a big day.
But the offence couldn't overcome the ensuing sack and O'Shea called on Liegghio again, this time from a more comfortable 30 yards out, giving the home side an early 6-0 lead.
The way the Winnipeg defense had come out of the gate – causing Hamilton quarterback Dane Evans all kinds of problems – you wondered if that might be enough.
Article content
"They were physical," O'Shea said. "They obviously did well at the line of scrimmage. Hamilton has had to juggle quite a bit on the O-line so we were able to take advantage of that a little bit."
The Ticats did manage a field goal before the first quarter was up and added another to start the second quarter – after Demerio Houston dropped a potential interception – to tie it up.
At this point, neither team was much of a threat to reach the end zone.
Not even a Collaros interception, giving Hamilton the ball on the Winnipeg 27, could produce a major for the Black and Gold.
But the Blue and Gold got one last first-half shot, taking the ball on their own 51 with 51 seconds on the clock.
Five plays and 59 yards later – 40 of those coming on a Nic Demski grab with a man all over him at the Ticats one-yard-line – Oliveira bashed it in.
Article content
It was 14-9, Bombers, at the break, thanks to a touchdown made in Winnipeg: both Demski and Oliveira are products of Oak Park High School.
Demski had his best night, so far, finishing with a team-leading six catches for 96 yards. But he didn't finish the game, leaving after it looked like he turned his ankle in the third quarter.
The Bombers were dominating the time of possession – they finished with nearly 13 more minutes than Hamilton – and if the Ticats defense had a reason to be wearing down, Winnipeg's was just warming up for its typical fourth-quarter surge.
After harassing Evans but not getting him down through three quarters, it finally recorded a sack to open the fourth, Willie Jefferson collecting his much anticipated first of the season.
Article content
Jefferson's play, and his ensuing somersault and hip-pumping celebration, was only a hint of what was to come.
Next Hamilton series, an Evans pass was deflected back toward the line of scrimmage, where the one-time US college receiver got his mitts on it and rambled 30 yards to paydirt and a commanding, 25-9 lead.
"A good night at the office," Jefferson called it. "Offence, defence, special teams came out and did what we needed to do to get the win."
It was Jefferson's fifth career touchdown.
"I'm livin' right," he said. "That's all I can say, man. Just effort… and the ball just so happened to find me. You've just got to be hungry. You don't get rewarded for being lazy."
All the Ticats could muster was another field goal, and coach Orlondo Steinauer's crew had suffered the same fate as in the last two Gray Cup games.
Winnipeg finished with 20 first downs to Hamilton's 14, 352 net yards to 258 for the Ticats. Oliveira produced a season-high 56 yards on the ground.
On defence, Kyrie Wilson and Houston each had six tackles, while Jackson Jeffcoat was a force on the D-line.
Up next for the Bombers are a few days off before they embark on a hellish part of their schedule.
In 10 days they'll travel to Toronto for a Monday, July 4 matchup with the Argos. Five days later it's all the way to Vancouver to take on the Lions.
Then it's back home on another short week, six days later, to take on Calgary.