A woman claims she ended up looking like Al Pacino's character Tony Montana in the iconic film Scarfaceafter her cat clawed her.
Mandy Morris managed to see the funny side of the impromptu attack and shared a clip of the scratch running across her eye to her TikTok account, @iamwillywonky.
"When your cat accidentally makes you Al Pacino," she captioned the footage, showing her looking menacingly at the camera.
Morris, from Kansas City, Missouri, added the caption "not a fun way to wake up," but explained to Newsweek that the scar was the result of a total accident.
Referring to her cats, she said: "We have a tall headboard on our bed that they like to sit on and look out the window at times. I've never had an issue before.
"However, this one morning I woke up to a cat (not Willy!) getting spooked and using my face as a catapult. Willy isn't able to climb so it wasn't him. We have our suspects though.
"It was incredible painful and scary at the time. Luckily it missed my actual eye and I was able to heal with very little scarring!"
After the initial pain subsided, she added: "I had to find a way to laugh about it. Trust me, I definitely had my panic moments. Everyone was incredibly sweet and worried but loved seeing the humor.
"This was a complete accident and I've never had issues getting scratched before. Just wrong place, wrong time sort of thing."
Morris has a few pets, and after her original video, which amassed nearly 400,000 views, she followed it up with a second one as she assessed the "face slasher" culprits.
After ruling out Tito, Hobbes, Lucy and Willy Wonky—who is something of a minor celebrity on her page and has Cerebellar Hypoplasia, "aka wobbly cat syndrome"—she landed on Nuggy as the prime suspect.
The rap sheet said: "Judges your every move. Scares Easily. Jealous of Willy's fame."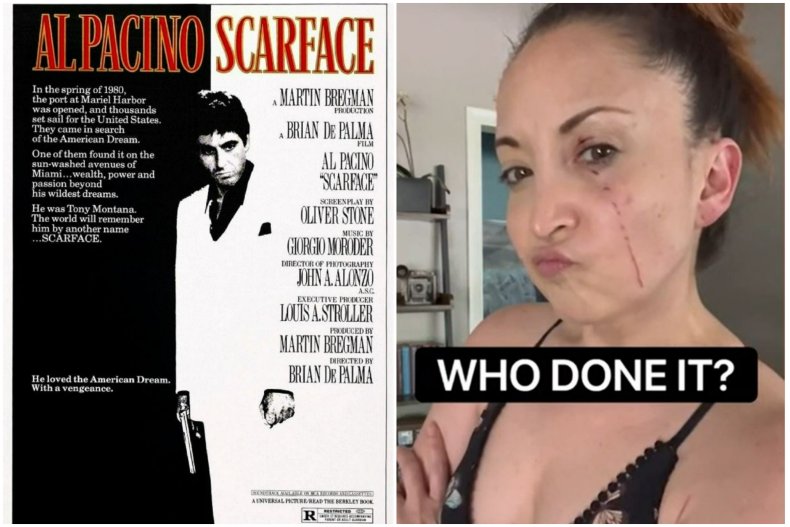 Montana's scar is arguably his most defining visual feature, and was described by The New Yorker in 1983—the year Scarface was released—as: "The slash of a scar that runs through one eyebrow and down across the cheekbone seems to go right to his soul; there's something dead in his face—as if ordinary human emotions had rotted away, leaving nothing but greed and a scummy shrewdness."
In the movie, Montana is quizzed about its origin, as he quips: "This is was when I was a kid, y'know. You should see the other kid."
The cult classic saw Al Pacino pick up a Golden Globe for Best Actor in the oft-quoted movie, which tells the story of a gangster drug lord in Miami.
Commenting on Morris' scar online, Thumbswitch said: "Tony Montana."
Melvin Wiles wrote: "That's gonna be an epic battle scar."
Casey Vandor joked: "Hopefully you replied 'say hello to my little friend!"
Brenda G thought: "Ooh I know that hurt like a mother! Looks badass tho!"
IMDB says Scarface grossed $65,884,703 at the box office worldwide, pulling in $4,597,536 in its opening weekend across the US and Canada in December 1983.
The 80s classic, directed by Brian De Palma, was a remake of a film with the same name, released in 1932, directed by Howard Hawks.
ScreenRant sought to explain the parallels between the two films, and clear up if Montana is based on a real person, saying: "Montana is only partly based on Tony Camonte, the star of the 1932 movie, and according to [Oliver] Stone, he took the "Montana" last name from NFL quarterback Joe Montana, who was his favorite player.
"However, Camonte was based on one of the most famous gangsters in history: Al Capone."