A Way Home — Housing Solutions: This story is part of Southwest Michigan Second Wave's series on solutions to homelessness and ways to increase affordable housing. It is made possible by a coalition of funders including the City of Kalamazoo, Kalamazoo County, the ENNA Foundation, Kalamazoo County Land Bank, and LISC.
So where does the family dog ​​go when the family is evicted?
Or when its owner is homeless and can't afford to feed himself?
Or when a woman and her children are escaping domestic violence?
People who are transitioning from a domestic crisis have a tough time finding a place for themselves let alone their dogs, cats, and other pets. But the Kalamazoo Humane Society is exploring the possibility of providing a place. Its program director is trying to determine how big a facility is needed, where it may be built, how it would be staffed, how it could be funded, and how much all of that would cost.
"We're still in the exploring stage," says Amy Stockman, program manager and volunteer coordinator with the Kalamazoo Humane Society, an animal care organization that strives to help people keep their pets and prevent the overpopulation of pets by providing such services as no -cost or low-cost spaying and neutering. It does not have facilities to keep animals overnight, however, and does not take animals to be adopted out.
"In our current program we have a limited amount of funding that if somebody goes into the YWCA (domestic shelter program) and they have animals they don't want to leave behind for fear of retribution or anything, the YWCA calls us, and we will take the animals and pay to have them at a private kennel," Stockman says.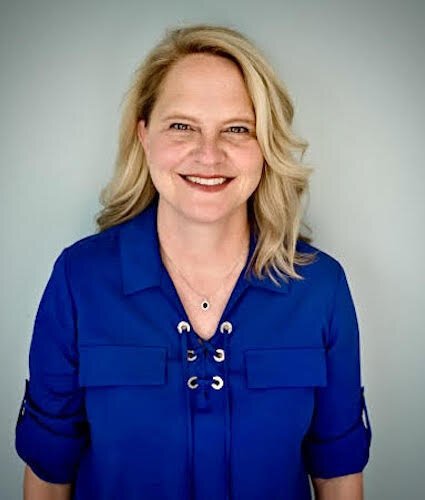 Amy Stockman is program manager and volunteer coordinator with the Kalamazoo Humane Society.She says that happens about 10 times a year but thinks more people in crisis situations would call if they knew it was an option. Her estimate does not include the times the domestic assault program at the YWCA Kalamazoo calls on the SPCA of Southwest Michigan to house animals displaced by crises. The Society for the Prevention of Cruelty to Animals and the Humane Society work closely with the YWCA to find solutions. But the SPCA and the private kennel used by the Humane Society are only able to hold animals for periods of two weeks at a time.
"It really isn't the best situation," Stockman says, "and we really only do it for two weeks, which is not enough."
Stockman is working with the City of Kalamazoo, the Kalamazoo County Land Bank, an architectural firm, and others to explore the idea of ​​a new, as-long-as-needed shelter for displaced pets. Although its size and dimensions have not been decided, Stockman says the facility will need to have plenty of room for kennels and an outdoor area so dogs can be exercised.
She says she has not come across any municipality with a facility dedicated to care for displaced animals. But she has visited the Foundhouse Interfaith Housing Network in Cincinnati, Ohio, to get ideas. It's an interdenominational organization that provides a range of worship and fellowship services. It also has a pet support program that provides temporary shelter for dogs, cats, and other pets whose owners are in shelters, hospitals, or rehabilitation programs in the area.
It provides access to vaccines, spay/neuter services, and veterinary care. According to its website, "We also shelter animals in our foster program, which increases our capacity to work with more animals. Our program gives pet owners an opportunity to access services without having to surrender their animal, which keeps families together."
Janet Karpus is associate director of Ministry With Community.Volunteers care for animals there three times a day, seven days a week.
"There is an enormous need. I think it would be fantastic," says Janet Karpus, associate director of Ministry With Community, a daytime shelter and resource center for adults at 500 N. Edwards St. in downtown Kalamazoo.
"From our point of view," she says, "we've had many people who are experiencing being unhoused … and they don't want to give up their pets. So they're out on the street with their dog. I'm referring more to dogs, but I know cats are often involved too."
Karpus says people are left in a tough situation, particularly in the winter, because they can't stay at a shelter with an animal. And it is emotionally draining when they decide they can no longer maintain their animals and have to permanently leave them with the SPCA or another organization.
"Pets are really family and they often help the victims through the trauma events," says Sherry Brockway, director of emergency response services for YWCA Kalamazoo. "And so they're (people are) very connected to their animals."
She says she has talked to victims of domestic violence who would rather make sure their pets escape an abusive situation before they do.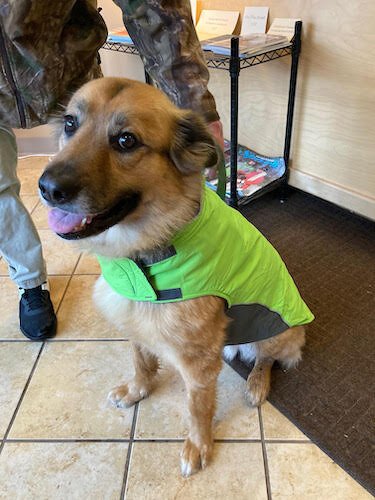 Ministry With Community received a grant from the Kalamazoo Community Foundation last year to provide Winter coats and other supplies to dogs pond by unhoused people."Pets are one of the leading causes of why people won't leave a violent relationship," Brockway says. A shelter for displaced animals would give domestic abuse victims "peace of mind knowing that their animals are in a safe place while they are seeking," she says.
It could also help alleviate separation anxiety, which is hard on the animals, and hard on pet owners, particularly children.
"Also because domestic violence relationships are so isolated," she says, "that (the ongoing supportive contact with a pet) is often the only contact that a victim might have."
In domestic abuse situations, Stockman says, a lot of people delay or don't go to a shelter for help because they don't want to leave their animals behind. She says surveys have indicated that 18 to 48 percent of battered women said they delayed their decision to leave their batterer, or have returned to their batterer, because they are worried that they cannot leave their pets.
"They are worried that their dog will be abused," she says. "They are worried that the dog will be used as leverage for them to stay."
According to information provided by Stockman:
• Perpetrators of domestic abuse use the killing, torturing, and beating of pets — or the threat of such actions — as a weapon to ensure submission and silence by their victims. That causes many victims to remain in violent households to ensure that their pets are not harmed.
• Between 71 to 85 percent of women entering domestic violence shelters reported that their partner had threatened, injured, or killed the family pet.
A veterinarian checks a dog during a free clinic hosted by the Kalamazoo Humane Society.Organizations that help people negotiate homelessness or domestic crises have, for the most been lucky when it comes to helping pets, Karpus says. Brockway says one of her co-workers was once somehow able to find shelter for a woman's horse, chicken, and dog.
Karpus recalls a pre-COVID-19 winter when an unhoused woman and her Chihuahua were sleeping by the Ransom Street dumpsters behind the Ministry With Community.
"It was February and this woman — we just happened to hear someone calling for help — and they were sleeping outside near our dumpsters," Karpus says. "And it was freezing. Come to find out she had a small dog with her. And so we got her in and called the medics and took care of her. But she had this animal. It was her animal, her friend, her companion."
The Kalamazoo Humane Society works to help keep pets safe and healthy with their owners. It also tries to prevent the overpopulation of dogs and cats.Ministry With Community was able to find her shelter and Kalamazoo Animal Rescue was able to find a temporary home for her dog. But it took five months for the woman to find housing and be reunited with her dog.
What has triggered interest in the project now?
"I think the precipitating event is we're getting more and more requests for it," Brockway says. "And it's getting harder and harder to find the money and the shelter for these pets. Outsourcing them to kennels is not cheap."
While the SPCA tries to find foster homes for pets or houses them in its kennel, a source says it costs the Humane Society about $400 to have an animal housed in a private kennel for two weeks.
Brockway estimated that about three out of 10 families who receive services from the YWCA's domestic assault program have pets that need care. In 2020, the last year for which she had statistics, the program provided 36,167 nights of shelter. That provided care for 312 adults and 413 children.
Stockman is excited about exploring a more permanent solution. In the not too distant future, she hopes to see a secure facility where people in a housing crisis can visit their animals and spend time with them. Downtown Kalamazoo is considered an ideal location because of its proximity to services and people.
A main requirement of the YWCA is for the facility to be a place where individuals can safely visit their pets. Brockway says, "I would hope that it would be a place where any pet in Kalamazoo could get up to date on their shots, and get food, water, and a safe place to stay."
Stockman met in June with representatives of the YWCA, the Kalamazoo Gospel Mission, and Ministry With Community to brainstorm and identify needs. She says she is working to determine costs, has talked with the Kalamazoo County Land Bank, talked with the Kalamazoo County Zoning Commission, and is planning to look at properties that may be suitable. Fund-raising would follow.
Stockman says, "We're trying to work together with all of these organizations to create a place where people can leave their animals whether it's a day or whether it's a night. People are leaving their animals in their cars at night because they cannot take them into the (Kalamazoo Gospel) Mission. There's just a lot of stuff going on. And there's a definite need."
.