Securing cats within an area of ​​the home or safe within a carrier can be a complicated task that places pet parents at the mercy of these independent animals. Retailers must ease this process for their customers through offering products that afford peace of mind for pet parents, comfort for the animals, and a secure environment for everyone.
Careful Selection
Pet parents are now investing more time and money to ensure their cats enjoy secure spaces during travel or at home. Each cat has a different personality, which means retailers should know their customers and the issues they are trying to solve.
"We have seen an increased demand for cat containment options," according to Alexandria Peters, marketing coordinator at Richell USA Inc. in Grand Prairie, Texas. "Whether it is a carrier that offers easier entry for cats that may be reluctant to go into a carrier or containment options that give peace of mind when leaving a cat home alone, pet owners are interested in options for their cats that they have previously been lacking."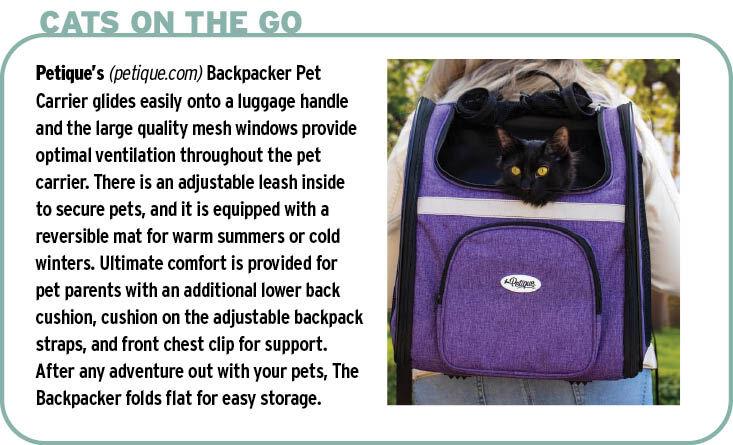 As manufacturers see more demand for their goods, they are creating sturdy cat containment and carriers to ensure pet parent satisfaction. Priorities for consumers shopping this category are finding products that create ease within their travel experiences with their cats.
"Demand for all pet containment and carrier products continues to be strong, with growth experienced across the category," explains Jason Moreno, brand manager of containment at Petmate, located in Arlington, Texas. "And with the summer travel season ramping up, all cat parents are looking for similar things, a strong and comfortable containment product that's easy to load, easy to transport, and safest for their pet."
For summer 2022, many travelers are leaving home with their pets as they seek to enjoy vacations with their every family member—including furry felines. Proper containment in a carrier is important for transporting pets during air travel, but also on the road says Penny Johnson, chief executive officer of Sturdi Products, Inc., located in Washington state.
"As we see people once again traveling by air and venturing out via car trips, many pet parents are happily bringing their pets, too, and seem to be researching safe and reliable options for pet travel," Johnson says. "People are researching before making decisions on traveling with their pets and seem to accept the need for containment in the car to prevent their pets and people from potential injuries due to uncontained pets becoming 'dangerous projectiles' after sudden stops, and accidents."
Pet-goods manufacturers are not only preparing for a rise in travel over the summer, they are also seeing a rise in pet parents who are taking their cats along for company as they go about their day according to Cristen Underwood, senior director of research and product development at Novato, Calif.-based Worldwise, Inc.
"We are seeing more and more pet parents traveling with cats, and including cats in their daily activities on the go than ever before," Underwood says.
Taking additional steps to ensure consumer confidence in containment products can help retailers gain customer trust, especially during an important purchase such as investing in a cat carrier or containment product. The solutions that retailers provide through carriers and containment afford peace of mind to pet parents who want to quell their own concerns regarding the safety of their pets, and are seeking reassurance regarding the product options they are considering.
"There are so many unpredictable variables when traveling," suggests Michael Leung, co-founder and lead product designer at Sleepypod in Pasadena, Calif. "Safety-tested carriers bring peace of mind on the road; multifunctional carriers minimize the number of products a pet owner will need to tote throughout travel."
Prior to embarking on journeys that require air travel, cat pet parents have other concerns to address in addition to comfort and safety of their animals. Knowing airline guidelines for travel is crucial to enjoying an easy trip. Retailers should make sure their customers are aware of the pet-carrier requirements of the airline with which they will travel prior to selling these goods.
"One of the most often asked questions: 'is it airline approved?'" Johnson says. "We are careful when answering this question and recommend that the pet parent check their airline's specifications. If the carrier fits the airline specs, the carrier complies with the airline specifications. Airlines do not give a stamp of approval on pet carriers, though several produce their own carriers that comply with their own specs."
Containment products are not only reserved for travel and cordoning off areas of the home from curious, independent cats. These items can also help pet parents create harmony as cats become acclimated to new surroundings or sharing a space.
"We have found that pet owners benefit from being able to control their cats' environment, whether it is to keep a kitten out of unsafe spaces or to separate multiple cats when they are not home to supervise them," notes Peters.
Creating a Comfortable Space
While all cats have their own distinctive personalities, some can be extremely resistant to containment. These independent animals are often driven by their own agendas, which could make a difficult situation worse.
"Simply put, the cats aren't having it, making the stressful process and potentially unsafe," says Moreno.
Pet parents might find the carrier or containment option they feel is perfect, but the ultimate judge is the cat that will use these products. When providing guidance to pet parents as they shop for carriers and containment goods, retailers should provide tips that will help cats become comfortable within their new surroundings.
"Cats need time to acclimate to a carrier. Take time in advance of travel to acquaint a cat with their new home away from home. Start slowly by making it a game, luring the cat into the carrier with treats," suggests Leung. "Once a cat accepts the new napping spot, close the carrier for brief periods and gradually increase the containment time. The most important tip is that a carrier should be a happy place, so never rush a cat and never use the carrier as a punishment tool."
When choosing inventory to meet the carrier needs of their customers, Moreno notes that retailers should investigate options that will meet customers' demands for products that are durable, secure, easily cleaned, promote a sanitary environment, and allow cats to "curl up and relax ."
"This makes the entire process significantly less stressful for both the cat and cat parents," says Moreno.
Pet parents of cats prefer carriers that afford style, but their priority is comfort for their animals through features such as windows to view the world around them and screens to provide air flow. Retailers should accompany their sales pitches for these products with sound advice to make short- or long-term travel more enjoyable for their felines. Underwood suggests packing a travel-friendly litter box, in addition to bowls for food and water, to prepare for a trip.
"It is important to research ahead of time to secure cat-friendly accommodations and to plan plenty of stops for cats to get a break from their carriers," Underwood explains.
Selling Cat Containment
When strategizing regarding their merchandising in store, retailers should carefully select the containment products to display according to their unique features. By employing this type of planning, retailers can promote the distinctive benefits of the goods that are included in their inventory.
"Retailers can dedicate space in the store to cat-specific carriers (versus just displaying carriers as one size fits all—or one pet fits all)," according to Underwood. "Cats love products that are specifically made and designed with the unique needs of cats in mind."
Merchandising is crucial to selling carriers and containment products, but retailers must consider how to best display these goods within the limited space of their shops. By showcasing the products that include the features most appealing to pet parents within their communities, retailers will maximize their merchandising footage impact without wasting precious square on the sales floor.
"Most brick-and-mortar retailers are limited by available space," Johnson says. "A pet carrier, if assembled, takes up a sizable footprint, but an assembled carrier will sell better than a packaged product. With a huge array of carriers (from low-to-high-end) on the market, the retailer must offer products that will appeal to their particular walk-in customer base."
When retailers know their customers who live within their communities, they can plan their sales and merchandising strategies more easily. Promoting an array of different carrier and containment products to highlight their features within the limited space of a retail store can be challenging. By remaining familiar with their feline neighbors and their needs, retailers can anticipate the products that will best suit them, thereby dedicating their limited space to promoting the goods that will likely appeal to pet parents.
"The most important piece of information for retailers to consider when selling cat containment or carriers, is that different cats may have different needs," notes Peters. "Cat containment is not a one-size-fits-all solution, so providing cat owners with as many options as possible will help their customers find what is right for their cats." PB
.