They kill millions of birds a year, multitudes more than the oil and gas industry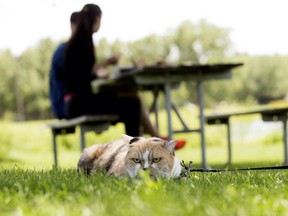 Article content
It's great to see the City of Toronto taking a step to fight the slaughter of birds in Canada.
Article content
The culprit isn't Big Oil or Big Anything — it's a marauding, mass-murdering multitude of small cats. Now that a committee of Toronto's city council has advised the city bar cats from roaming free, perhaps an end to the madness is in sight.
If it follows through, Toronto will rise to play David against a Goliath of ecological destruction. North America has lost one-third of its bird population since 1970 — that is, the continent is three billion birds short. In Canada, cats are the number one cause of death by a long shot, killing an estimated 100 to 269 million birds per year, according to 2013 studies in the journal Avian Conservation and Ecology. That's about 62,500 Syncrude duck disasters per year.
Oil and gas, together with mining and fisheries, kill fewer than 25,000. That's nearly an oasis, by Canadian bird standards.
Article content
City councils often tote their environmentalist ways, doing something like approving bike lanes, supporting green infrastructure and reducing their water use. But bike lanes don't save bird lives. Until recently it seems, cities have been willing to look the other way when feline friends are the culprit. Oil companies, meanwhile, have to pay millions into conservation efforts when birds die under their watch.
There is little justice in Canada if you're a city bird. If we went after roaming cat owners like we did oil companies — which would be the conservationist thing to do — perhaps it would start to level the playing field. Right now, outdoor cats are an environmental externality being taken less seriously than carbon. Climate change is bad, but fewer and fewer birds get to experience it every year because of irresponsible pet owners.
Article content
Mayor John Tory trivialized the fight against this grave and persistent threat to nature as "running around and chasing Fluffy the cat." Which is the bird equivalent to dismissing the investigation of an at-large murderous criminal as "running around and chasing Bogo the Clown."
Indeed, Toronto is the one of the country's greatest municipal death trap for birds, home to 200,000 feral cats on top of whatever domestic population is out there. It's an avian biodiversity hellscape. The least they, and other, municipalities could do is leash the beasts so that fewer can multiply in the great outdoors. Nanaimo and Victoria have each tried it, and they've survived. It's a promising sign.
Some libertarians will argue that cats should have freedom to live like their wild ancestors, we have to remember that freedom comes with limits and responsibilities. Individually, cats can't control their evolutionary urge to kill — they are a hammer, and they will treat every native species small enough to kill as a nail. Systemically, they're wiping out fauna from their evolutionary homes. At all levels, a heavy restriction on freedom is warranted.
Article content
It's also fair. Hobbyists aren't allowed to keep invasive zebra clams as pets, let alone take them for a swim in the lake. We don't give mollusks the benefit of the doubt, so it's only fair to place some limits on the wrath of invasive cats.
Canadian cities are lucky, because they can learn from the mistakes of other jurisdictions. Cats have contributed to extinctions of various bird species throughout the world. An island off of New Zealand lost an entire wren species at the paws of introduced cats, which multiplied and wreaked havoc on the local ecosystem until they were eradicated in 1925. It likely started with one outdoor cat.
In Australia, cats decimate seabird populations and other little critters as they try to raise their families. The problem there is so bad (cats kill two to six billion birds per year), that some regions have even introduced a feral cat bounty. If it's not that bad in Canada, we should keep it that way — if we don't want to be forced into choosing between a gruesome bounty on Tomcat Silvester or millions of innocent dead birds, we're going to need more people keeping their cats inside.
Article content
Cat-enabled biohazards go both ways. They're also notorious spreaders of the parasitic worm Toxoplasma, which they pick up outside and diligently transport to infect humans at home. The microscopic worm is particularly risky for pregnant women, and can even contribute to miscarriages.
Really, the least they can do is accept a peaceful life in the comfort of a human home. They stand to benefit too: cats that stay indoors are highly unlikely to be run over by a car or mauled to death by a coyote, barring exceptional circumstances.
While romantic notions of nature are cute and all, and a cat's loud demands at the door may be overbearing, these shortsighted desires are likely to lead to grisly deaths of wildlife, and the cats themselves.
National Post
sarkonakj@protonmail.com
Twitter.com/sarkonakj
Jamie Sarkonak is an Edmonton writer.
•Counterpoint: Jesse Kline: Toronto finally tackles the scourge of … outdoor cats?