Nestled between the colorful shops on Kamakura's busy Komachi-dori Street is the green awning of the Kamakura Owl Forest.
Photos of owls decorate the outside of the zoo, and a friendly host instructs visitors to climb the stairs to the second floor where they can buy tickets good for one drink and an unlimited amount of time to pet the birds of prey.
When my family stepped through the door, we were transported to a beautiful green space. Small trees and flowers decorate the room, along with branches where an assortment of owls were perched. Some were so large that they seemed more like stuffed animals someone had propped up as a joke. The owls startled us when they turned their heads to stare at us with their unbelievably round, amber eyes.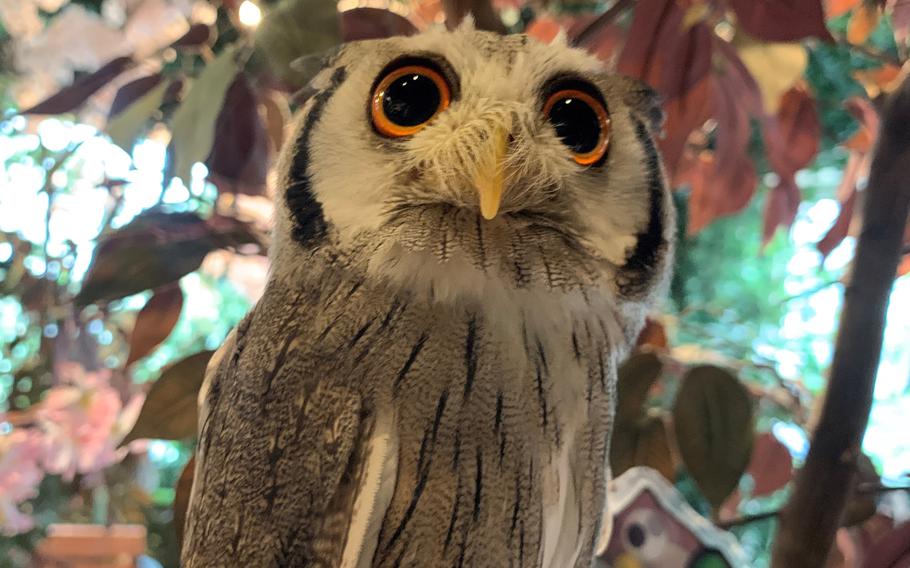 The employee at Owl Forest spoke only a little English, but demonstrated for us the proper way to pet the owls — gently, on their backs, and with the back of your hand.
During the presentation, the guide seemed almost hesitant to pet the owls, and I couldn't help but notice the way her hand retracted quickly when the owl she pet turned its head toward her. She gave us the advice that if an owl doesn't seem to like being touched — stop. Based on her behavior, and after noticing the owls' sharp, pointed beaks, I was inclined to take her advice.
My 1-year-old, too, seeming to sense the danger of the large birds, clung to me and watched the owls warily from her own perch. My 7-year-old child, on the other hand, was fearless. I saw her weave her way along the owl path, gently stroking their backs and speaking to them softly.
Some owls had signs next to their names telling visitors not to pet them because they were still being socialized or were tired of being touched. I felt slightly sad when I saw that these active predators were tied by their feet to their perches, unable to fly.
However, all the owls seemed healthy. Their feathers were full and soft, apparently without any midges. The spaces around them were also cleaned of droppings.
The zoo had one snowy owl, which at the height of the Harry Potter franchise was probably a headliner. Unlike the majestic Hedwig, the snowy owl at Owl Forest was slightly comical because it kept sticking out its tongue. I that it was panting due to the warm day, and the realized staff attempted to cool down the arctic bird with air conditioning and a personal fan.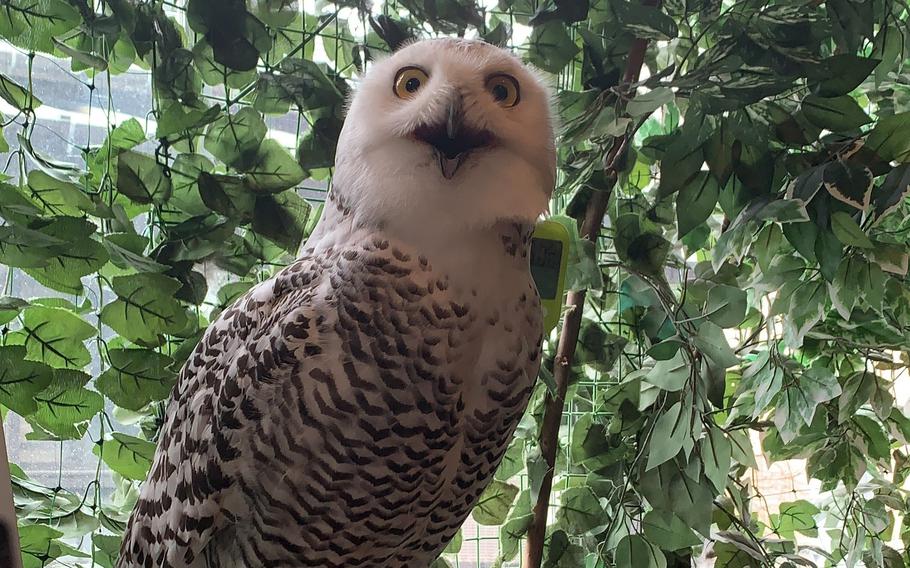 Aside from the snowy owl, there were also white-faced barn owls, several cat-like great horned owls and an intelligent-looking spectacled owl.
Despite how I felt about the owls' captivity, going to Kamakura Owl Forest gave us a rare opportunity to learn about and appreciate these birds of prey up close and in a safe environment. The zoo is also indoors, which makes it a great place for couples and families to do something memorable this summer while keeping cool.
ON THE QT
Directions: 2-10-4 Komachi, Kamakura City, Kanagawa 248-0006 Toyo Building 2F
32 minutes by car from Yokosuka Naval Base main gate; Just over an hour by car from Camp Zama Gate 1.
Times: 11 am to 5 pm Monday through Friday; open until 6 pm weekends and holidays.
Cost: Tickets range from 800 yen, $5.87, for anyone 13 years and older to 600 yen for children 4 to 12 years old. Children age 3 and younger are free.
Food: One vending machine drink is included with each ticket.
Information: Phone: 0467-22-8977; Online: owls-cats-forest.com/free/owls-kamakura