Sometimes good things can come from the most unexpected places.
In this case, it was the Lowes parking lot in Whitestown.
Back in April, a one-eyed golden retriever mix was found in a parking lot, abandoned. At the Humane Society for Boone County, before a dog is taken in, it has to come to the Boone County Sheriff's Office so it can be deemed dog as a 'lost' and an official report can be filed.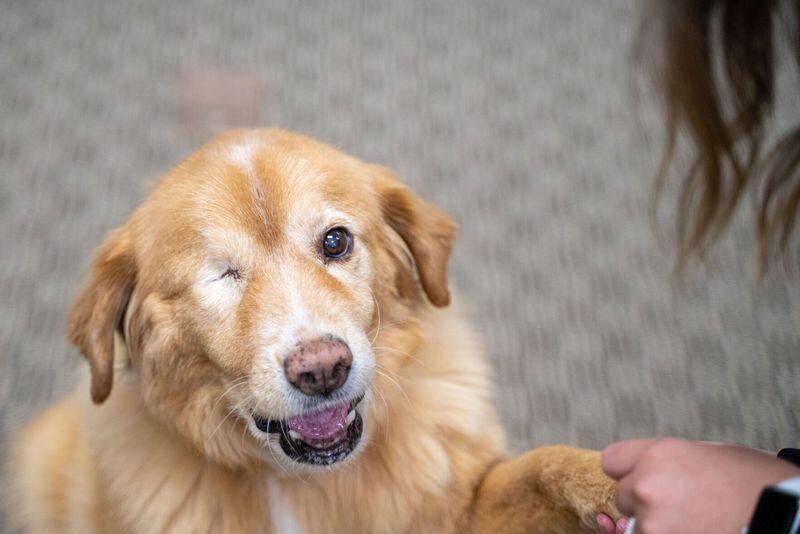 BCSO Administrative Assistant Madyson Portish generally works at the front desk of the office but not directly at the window.
By some chance, the employee who normally works the window was gone, so Portish filled in.
"We don't have an animal control officer right now so part of not having one of those right now is quite a few people within the office or down in communications and a handful of officers volunteer for what we call the Kennel Club," Portish explained. "So if an officer finds a lost animal, we'll take turns and go down and help put them in the kennel, make sure it has food and water and takes turns taking care of the animal there."
It just so happened to be Portish's day for the Kennel Club, so she took the dog down, scanned it for a microchip, which came up negative, and got the dog all settled for her stay at BCSO.
"I made sure she had everything, and I went out to check on her at around 10, then after my lunch, then after work," Portish said. "And that night, it was going to be like 32 degrees, and that's way too cold for a dog to be outside."
So Portish ended up taking her home for the night. She has two dogs of her own, so she's no stranger to four-legged friends.
"When I took her home, my husband was like, 'No, we don't need another dog.' and I'm like, 'No, this dog is great. She's really great,'" Portish recalled.
She took the dog back to the office the following morning.
"It was really busy for a Wednesday," Portish said. "The Sheriff was here, the entire hallway was here, there were deputies, I mean, it was the busiest I've ever seen the office at 8 o' clock in the morning."
The dog wasn't phased by the commotion and gladly rolled over for anyone who looked like they might be interested in giving a belly rub. Sheriff Nielsen asked Portish the dog's story and why she was in the office.
"So I told him what was going on, and he was like, 'Well, she's not going back into the Humane Society, right?" and I said, 'I would love to take her,'" Portish said.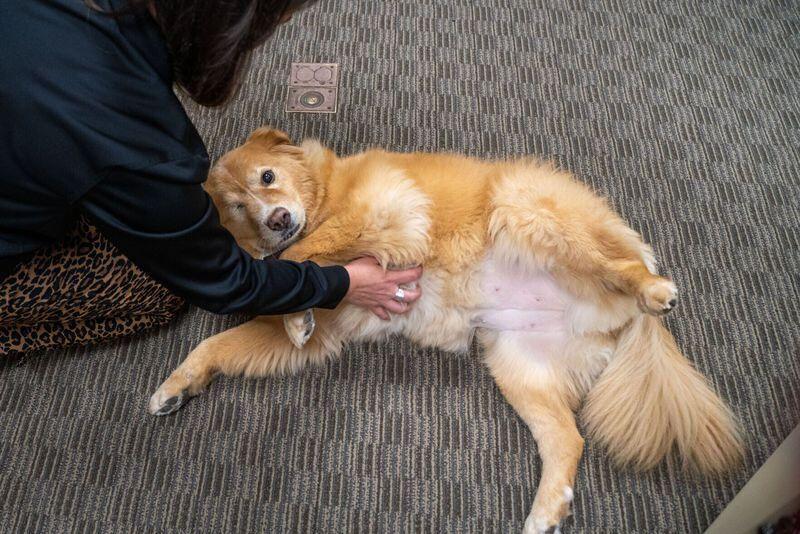 She then talked with Humane Society staff and figured out the proper way to adopt her. With the required seven-day hold with any lost animal, Portish was able to take her new dog home during that holding period. She was also allowed to take her to work.
"She eventually just kind of grew on everybody here in the office so after that seven-day hold, we took an office vote on what her name should be."
The office decided on Addy, because she works in the administration department. Addy is also extra special because of her face. Portish isn't sure how, but Addy lost an eye at some point in her life.
"My husband and I officially adopted her, because nobody came to get her, which is really sad," Portish said.
Portish said she isn't sure why Addy was abandoned. She's well trained and can do multiple commands. She was well-groomed too.
"Somebody had loved on her," Portish said. "It just makes you think that she was somebody dropped off because she was sick and didn't want to or couldn't take care of her."
After a visit to their vet, it was discovered Addy has bladder cancer, and could live from three months to three years. They don't know how long. But until her time is up, Addy is loved and accepting belly rubs from anyone at the Sheriff's Office who will give them to her.
"She comes in every morning, and sprints down the hallway as she stops in everybody's office to say good morning," Portish said.
After sending out a department-wide email asking everyone to stop feeding her human food because she was eating so much, Addy started getting a lot more visitors from officers who are normally out on the road, who wanted to come in and meet her.
"So many people have stopped by to see her and I think it's really encouraging for command staff to see her because there has been some talks of a possible therapy dog ​​for the department and I get to see her in this environment, making everybody laugh, Portish said. "She's normally belly up in the hallway so if anybody stops by, they'll pet her. For me, I feel so spoiled to get to take my dog ​​to work every day. My other two dogs are very jealous."
.