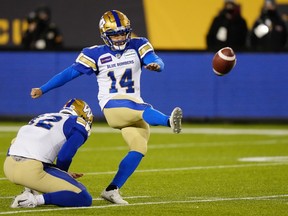 Article content
Week 3 in the CFL is headlined by a rematch of the last two Gray Cups, as the Winnipeg Blue Bombers host the Hamilton Tiger-Cats at IG Field. The Bombers have opened the year with back-to-back victories against the Redblacks while the Ticats are still looking for their first win.
Article content
CFL betting lines hit the board with the defending champion Blue Bombers installed as 5.5-point home favorites before shortening to -4.5.
Here are our best free Tiger-Cats vs. Blue Bombers picks and predictions for Friday, June 24, with kickoff at 8:30 pm ET.
Tiger-Cats vs Blue Bombers odds
This odds widget represents the best odds available for each betting market from regulated sportsbooks.
Article content
This line hit the board with the Bombers at -5.5 with the Over/Under at 42.5. Early money has come in on the Ticats, shifting the line to Winnipeg -4.5 and even as low as -3.5 at select books. The total has stayed steady although there are some sitting at 43 as of Thursday afternoon.
Use the live odds widget above to track any future line movements right until kickoff and be sure to check out the full CFL odds before betting to ensure you get the best number.
Article content
Tiger-Cats vs Blue Bombers Week 3 predictions
Predictions made on 6/23/2022 at 11 am ET.
Click on each prediction to jump to the full analysis.
Tiger-Cats vs Blue Bombers game info
• Location: IG Field, Winnipeg, MB
• Date: Friday, June 24, 2022
• Kickoff: 8:30 pm ET
• TV: TSN
Tiger-Cats at Blue Bombers betting preview
Weather
Key injuries
Tiger-Cats: Cariel Brooks DB (Out), Don Jackson RB (Out), Alex Fontana C (Out), Lemar Durant WR (Out).
Blue Bombers: Jermarcus Hardrick RT (Questionable), Michael Couture C (Out), Jackson Jeffcoat DE (Questionable), Winston Rose CB (Questionable), Brandon Alexander DB (Out), Mercy Maston DB (Out), Jesse Briggs LB (Out).
Find our latest CFL injury reports.
Article content
Tiger-Cats vs Blue Bombers picks and predictions
Our side and total predictions are based upon our analysis of the line and total in this game. Our best bet is our favorite pick across all markets.
Spread analysis
The Tiger-Cats are coming off a 33-30 overtime loss to the Stampeders where they squandered a 21-point halftime lead. That followed up a Week 1 defeat to the Roughriders, where they were in a close defensive battle with Saskatchewan until the final quarter — when they surrendered 18 points. That poor play down the stretch is inexcusable for a veteran team and a highly respected coaching staff that have Gray Cup aspirations.
The Bombers are 2-0 to begin the year after a home-and-home set against the new-look Redblacks. Ottawa quarterback Jeremiah Masoli had success through the air but Winnipeg's defence did an excellent job of tightening up in its own end, allowing just a single touchdown across both contests.
Article content
Winnipeg's offence has looked less explosive this year, which could be explained by the departures of star running back Andrew Harris and leading receiver Kenny Lawler. That said, quarterback and reigning CFL MOP Zach Collaros still has enough targets to spread the field and move the chains when Winnipeg needs to get a score.
Ultimately, it's tough to trust the Ticats right now, given their sloppy turnovers and second-half collapses to begin the year. On the other hand, the Bombers are a great team in the clutch and simply know how to win close games. With this line shortening to as low as -3.5 at some books, I'm taking the faves at home.
Prediction: Blue Bombers -3.5 (-120 at FanDuel)
Covers CFL betting analysis
Article content
Over/Under analysis
After struggling against the Riders stop-unit in Week 1, quarterback Dane Evans and the Ticats' offence were rolling last week…at least until the second half.
Turnovers and poor execution led to just six points on a pair of field goals for the Ticats after halftime, and it's tough to see them having more success against this dominant Bombers defense in the always hostile environment of IG Field.
Sure, the Bombers' D looks a bit more vulnerable in the secondary this year than in 2021 but they have done a fantastic job at bending without breaking. This is still a loaded and opportunistic Winnipeg stop-unit that should be able to exploit an error-prone Hamilton offence that has done a poor job of protecting Evans.
Article content
Hamilton's defense has looked much better, at least until the final quarter. On paper, the Ticats' defense should be just as good as last year when they limited foes to just 17.4 points per game — the second-best mark in the league, behind Winnipeg's 13.4 ppg allowed.
There are also some key injuries that could slow down both offences. The Ticats will be without starting running back Don Jackson and center Alex Fontana. Meanwhile. the Bombers will miss their own center, Michael Couture, while All-Star right tackle Jermarcus Hardrick is questionable.
Prediction: Under 43 (-110 at DraftKings)
Best bet
Given the Ticats recent struggles down the stretch and Winnipeg's ability to turn things up a notch in crunch time, it's tough to bet against the home side here. Keep in mind that the Bombers didn't allow a single TD in the fourth quarter in 2021 until the final two weeks of the season, when they started resting half their starters.
Article content
We'd love to bet the Bombers on the second-half or fourth-quarter spread, but books have been wary of making such lines available. We'll definitely keep a close eye on this game and consider backing the Bombers on the live line heading into the final frame, but until then, we'll happily take them with this relatively short line.
Pick: Blue Bombers -3.5 (-120 at FanDuel)
CFL parlays
Did you know that if you parlayed this week's CFL Tiger-Cats vs. Blue Bombers picks, you could win $25.00 on a $10 bet?
Use our CFL parlay calculator to create your own parlays and see their potential payouts.
This article originally appeared on Covers.com, read the full article here