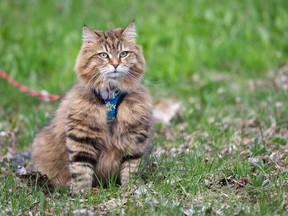 Article content
Toronto has abandoned a plan to force pet owners to leash their cats when outside.
Article content
At Toronto Council on Wednesday, Councillor Shelley Carroll reversed her earlier motion that would have made it an offence to let kitties run free.
The city should focus first on ensuring cats are licensed and microchipped, she said.
"Every GTA municipality around us has an anti-roaming bylaw but they have it because they've been more successful than us — only 4% of our cats are licensed," Carroll said. "And that's what makes it possible really to have an anti-roaming bylaw because you can pick them up and get them back to their owners with a warning, not end up with shelters full of cats that we then have a problem with."
The idea of ​​leashing cats was first proposed at a city committee which endorsed the idea as outdoor cats are at risk of getting hit by cars or by predators and are killed a threat to birds.
Article content
Mayor John Tory was against the idea, mentioning it was not a great use of licensing staff to chase down Fluffy the Cat.
Council did pass bylaw amendments that ban the feeding of wildlife in Toronto with some exceptions including songbird feeders.
"Currently, feeding wildlife is prohibited in all city parks," a Toronto city statement says. "As of April 1, 2023, feeding wildlife will be prohibited across Toronto and on private properties. Feeding wildlife can lead to public safety issues and negatively affect wildlife and the broader ecosystem."
The city is limiting households to a maximum of four guinea pigs and rabbits outside of rescue shelters.
"Residents with more than four guinea pigs or rabbits as of December 1 2022 will be permitted to keep up to 10 pets for their lifespan," the city says.
Article content
The number of pigeons allowed per property has been capped at 30, rising to 50 during breeding season which is between April and October.
Dog owners will be required to remove dog waste from their properties within 24 hours.
All owners must provide "adequate shelter" for pets kept outdoors during extreme weather conditions, the city says.
Toronto has new fees to enforce its animal bylaws.
Cats on a leash? The hot topic comes before Toronto council this week

FREE FLUFFY: Toronto politicians should focus on reversing the rot instead of cat leash law
Impounding a domestic animal that is not a cat or dog will cost the owner $30 for the first 24 hours and $10 a day after that, while an $140 impound charge will be levied for the seizure of a prohibited animal plus the cost of housing it.
A surrender fee of $59.06 will apply for any animal weighing more than 45 kg or $35.43 for a smaller critter.
"For the protective care of a domestic animal other than a cat or dog, a fee of $40 for the first 24 hours and $10 for
aartuso@postmedia.com